Shandong Junchuang Lock tamper-evident pull-tight security seal has been produced with a particular procedure in order to avoid that small plastic fragments could fall into any kind of container which are used to transport high sensitive goods such as liquids, powders, etc.
Product features in summary
Save costs due to a fragment-free seal and therefore a smooth logistic process
Specifically developed for industries such as pharmaceuticals, chemicals and food
Ribbon diameter of 3.8mm avoids accidental breakage
Tear-off facility allows removal of the seal without using a tool
Spikes on the ribbon secure fastening to the neck of the bag
Possible applications for high sensitive goods could be bags or roll cages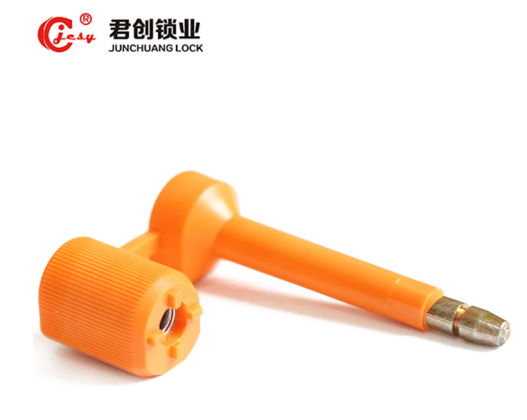 The seal is available in Polypropylene (PP) plastic in line with the industry standard. We are happy to discuss individualization with you - your logo or company name can be foil printed or laser-marked and you can choose between consecutive numbering or a variety of barcode types.
Different colours for logistical purposes
Customer name / logo for clear identification
Barcode enables fast and secure data entry
500 seals loose in polybags are packed in boxes of 1000 seals
Shandong Junchuang Lock Industrial Limited Company is one of the largest onetime lead seal manufacturersin China, specializing in producing Lead Seals, Cable Seals,Plastic Seals, Meter Box Seals, Bird Prevention Device, Signboard, and Bolt Seals and Container seals. Formally registered in Secretary of Commerce and Industry in 2008, Junchuang has had about 10 years selling experience from then on. Now we have ISO9001, ISO28000 and SGS certificates, and five patent certificates including plastic seal, meter seal,car sealing, plastic bag seal and lead seal. To the quality of survival, to scientific and technological progress, to manage for efficiency, through hard work, Junchuang has developed into a largescale company from an individual one. Having professional equipmentfor Cable seal more than 360 units, with 1 High&Low temperature test cabinet and 1tensile tester and 1 universal tester. Covering an area more than ten thousand square meters, Junchuang has developed into a capable and comprehensive enterprise combinning R&D, design, production and sales.