September 15, 2017, Shandong Province Qingyun County Jun Chuang Lock Industry Co., Ltd. was invited to participate in SF Group held in Shenzhen, "symbiotic growth" 2017 annual supplier conference. Our company was invited to participate in this conference, the company has been invited to participate in the development of the company, Carried out long-term planning.
Shun Feng Group has been strict product quality, which provided a higher demand for cooperation than other platforms, 2014, Jun Chong lock industry smoothly through the Shun Feng Group's strict audits, as its one-time seal suppliers. Since the establishment of our company, has been uphold the "quality of survival, to the credibility of development" concept, the production of each product have been more than 10 test test equipment, thus ensuring the quality of the product, and always strive for excellence , Only to create a Jun Chong brand. Nearly three years through the unremitting efforts of all the people, the creation of a lock industry and Shun Feng's cooperation has yielded fruitful, won the SF Express a high degree of recognition, and I am the Secretary for the development of Shun Feng is also very confident, in this commitment will Has been increasing investment, deep plowing cooperation, help smooth development, to achieve win-win situation, the current cooperation between the two sides is to a deeper level.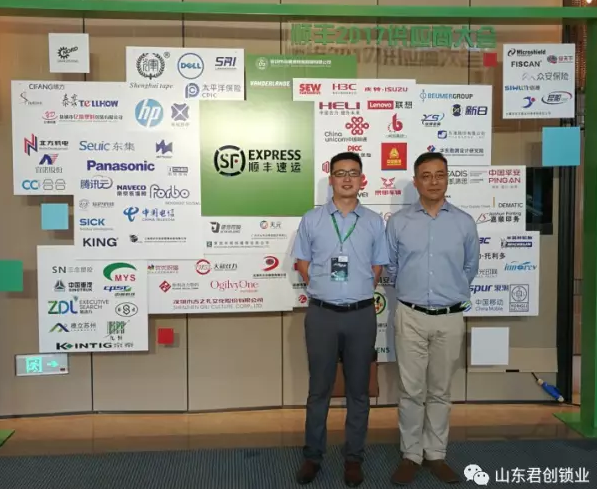 (Jun Chong lock sales director and Shun Feng Group procurement supply chain center Yang Wenjie photo)
&nQingyuan County, Shandong Province, a lock Industry Co., Ltd. has now developed into a nationwide scale of a one-time seal of the lock production enterprises, in recent years, Jun-lock industry has always insisted on scientific and technological innovation, attention to scientific research and technological transformation breakthrough, Access to plastic seal utility model patented technology, formed its own unique technical advantages.
Not only that, Jun-lock industry is also committed to the oil, electricity, port cargo, aviation and other industries, to provide tailor-made one-time seal solution, by the customer's recognition and praise. I have the company specializing in the production of Shi blockade equipment more than 360 Taiwan, covers an area of over 10,000 square meters, has become a set research and development, design, production and sales for a comprehensive, capable enterprises.
The number of trials and hardships, the customer's recognition is the largest lock on the industry's largest encouragement and the best spur. In cooperation with corporate customers, we will continue to improve the R & D strength, improve the product service system, pay attention to the innovation and growth of enterprise customers, promote the partnership better and faster, and strive to become the most solid logistics industry backing!